Volotea 'no plans to fly to Corvera'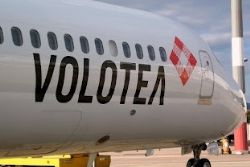 Volotea, the Barcelona based Spanish low-cost carrier, created just last year by the founders of Vueling, Carlos Muñoz & Lázaro Ros, has recently been in the press for establishing a number of new routes to and from Spanish airports, which have attracted enormous success.
Earlier this year their name was also linked to Corver International Airport, largely due to their business model of flying to 'secondary airports', where there is not a great deal of competition for flights already in place.
That said, the airline looks likely to capitalise on Ryanair's cutting of flights at Alicante's El-Altet airport, which has raised questions about the viability of them offering flights to both Alicante and Covera airports.
Speaking to La Verdad, Muñoz confirmed that no decision had been made with regards to any potential relationship with Corvera at the moment, and that it was not a target in the short term, however he said that in the future the airport may be a consideration for the British low-cost market.
Upon being asked if his decision not to fly to Corvera in the short to medium term was influenced by the failures of other private airports such as Castellon or Ciudad Real , the CEO commented that in his opinion Corvera was different because of the high demand by tourists wishing to visit the area.