Castellon airport 'will see more visitors in 4 months than Ciudad Real did in 4 years'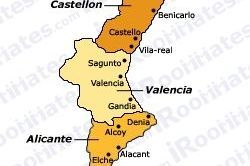 The President of Castellon Province, Javier Moliner, has told Europa Press how the contraversial airport should not set itself a target of becoming profitable.
He went on to say how instead they should look at implementing management systems that allow the airport to operate as efficiently, and at as low a cost as possible, whilst generating wealth for local businesses.
Moliner continued that Castellon airport was in a fantastic position to do this by attracting tourists to the province, and that Castellon is "a natural tourist destination".
He also claimed that the airport would attract 100'000 visitors in it's first four months of being operational - more than the privately owned and recently closed Ciudad Real airport did in it's first four years.
"Once the airport opens and starts to create jobs and wealth, the jokes will stop", he added.