Spain : Twice as many airports as Germany for half as many people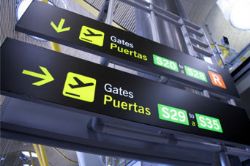 The government will not make any further investments in the country's state-owned network of airports which "have no justification based on criteria of social and economic profitability".
The statement came following a question put to them by the UPyD party, which pointed out that millions had been spent on investment at Spanish airports over recent years, which were largely underused.
The Government confirmed that the Ministry of Development would oversee a restructuring of AENA to ensure that the operating costs of all exsting airports could be reduced, providing that this did not cause any affect on the safety, operation or quality of service offered.
According to UPyD, most airports are not profitable and the infrastructure contained within the AENA network of airports are "below productive capacities".
Spain has a total of 46 state-owned airports between the 47 million head of populations, while other European countries such as Germany have 24 airport facilities for an 82 million head of population.