Spain to accelerate banks' toxic assets clean-up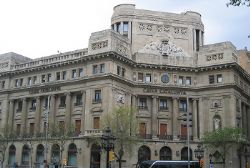 Spain will force banks to move all their real estate assets into a special holding company within weeks, in a bid to reassure investors the lenders won't need a further rescue, three government and financial sources told Reuters on Monday.
The real-estate holding entity should be up and running by the summer, but the final form and details are still being discussed by the banks and the government, one government source said. It is expected to dissolve after 10 years.
A second government source emphasized that options were still being weighed and that no decision had been made.
Spain's ability to avoid an expensive state rescue for its fragile banking system - which was devastated by the 2008 crash of a decade-long building boom - is key to the country's efforts to keep debt under control and avert a European bailout.
"This will enable us to separate clearly the banking business from the real estate one. Now that most of provisions have been made against property losses, it should enable the banks to get cleaned up easily", the first government source said.
The Spanish government in February forced the banks to write down massively the value of undeveloped land, unfinished developments and foreclosed properties. That was a third round of restructuring for the troubled sector.
The sources said the new special purpose structure should not be called a "bad bank" because it would not involve any public money, would not operate with a banking licence and would be managed only by real estate professionals.
A bad bank is a banking structure that takes over all toxic assets from a lender, leaving it only with sound ones.
"This is meant to complete the current banking reform but it would not lead to the creation of a bad bank, which requires public money", a source at the Bank of Spain said.
Spain's borrowing costs fell early in the year after the European Central Bank pumped longer-term liquidity into banks to help Italy and Spain from being sucked further into the euro zone debt crisis.
But they spiked back up again in recent weeks as the liquidity effect faded and as doubts grew over the latest Spanish banking sector reform and whether the country could reach tough public deficit reduction targets in a recession.
PROVISIONS NOT ENOUGH
Over the last few years the government has spent more than €18 billion to shore up some banks and to take over5 troubled lenders that it has been cleaning up and selling off one by one.
But Spain wants to avoid putting more public money into bank restructuring by financing the rest of the clean-up using future yearly contributions the banks make to a deposit guarantee fund.
It was not clear how that fund might work in conjunction with the real-estate holding company.
The total value of property assets on banks' balance sheets, including loans to the construction sector, reached almost €400 billion by the end of 2011, according to data from the Bank of Spain.
About €176 billion of troubled real estate assets - including land, buildings and bad loans to developers - are expected to be placed in the holding company by Spain's lenders.
The real-estate assets transferred to the entity will be valued by an independent body, the sources said. It was not clear how and when further losses on the properties and loans would return to the banks.
It is also not decided yet whether the holding company will operate as a single entity for all banks or if each bank will create its own real estate company, the sources said.
The Bank of Spain last week approved plans by all Spanish banks to boost capital, but said some may face difficulties meeting tough requirements set by the government, making it almost mandatory for the weaker institutions to fall into the hands of stronger ones.
The Spanish government has given lenders until the end of May to say if they plan to merge. It plans to launch the new structure as soon as this date is passed, the government source said.
Spanish banks are carrying their biggest burden of bad loans since 1994, data showed last week, fuelling doubts over whether the country's ailing lenders can survive without outside help.
Madrid and the EU have said repeatedly there are no plans to provide emergency international aid to Spain.