Bankia expects first quarter profit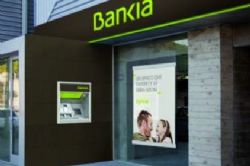 Bankia, Spain's third-biggest bank by assets, expects to post a profit for the first quarter of 2012, Chief Executive Francisco Verdu said on Sunday.
"We shall close the first quarter with positive earnings," Verdu told ABC newspaper in an interview.
Bankia lies at the heart of concerns over Spain's banking system due to its big exposure to the country's property sector, which collapsed 4 years ago.
The bank's full-year 2011 net profit fell 13% from 2010 levels after it wrote off €3.4 billion related to property losses.
Verdu said that the level of overdue loans would increase, "but we are very close to the peak."
"Everybody is talking to everybody," the executive said when asked about possible mergers.
"Bankia has analysed, continues to analyse and will continue to analyse any opportunity in the market as long as it entails a strategic contribution."
Earlier this year, sources told Reuters that the newly-elected centre-right government wanted to merge Bankia with another big Spanish bank, such as BBVA or CaixaBank.
Bankia had generated €1.3 billion in capital in 2012, Verdu said. Last month, Bankia told the Bank of Spain it could meet requirements for provisions against property losses without public money or merging with another bank.
The bank is due to report results on May 18.