AVE rail network to Corvera Airport 'on hold'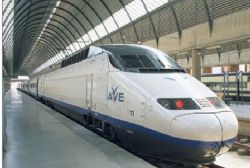 Murcia's regional Minister of Infrastructure, Antonio Sevilla, yesterday explained that it would not be feasable to operate the AVE high speed rail network to Corvera Airport, and that the only workable proposal currebtly on the table was for a shuttle connection between the city of Murcia and the airport.
Sevilla commented that when the Ministry of Development chose the route for the AVE, the regional government considered it a good idea for there to be a stop included at Corvera airport, but that this propsal was not included whilst the airport was still at the development stage.
The problem is reportedly one of the physical characteristics of the area surrounding the airport, which would call for the construction of 6 miles of tunnels, and the creation of a gradient of just 3% to allow the approach of the train, which could only be built at significant cost.