Minister accuses PSOE of lying over Corvera AVE connection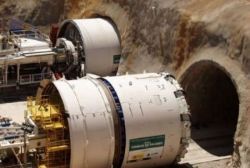 The Minister of Public Works and Planning for the region of Murcia, Antonio Sevilla, commented this morning that "the secretary general of the PSOE for Murcia was complicit in the big lie of the Zapatero administration", referring to the their decision to connect Cartagena to the national AVE high speed rail network as quickly and cheaply as possible.
Yesterday it was announced how the route and design of the infrastructure will make it unfeasable to allow the planned AVE to stop at Corvera International Airport .
According to the Minister, "Cartagena deserves an infrastructure as important as this", but that the people of Cartagena do not deserve "a Secretary General for the PSOE anf former Government representative who undermines the interests of Cartagena".
Sevilla went on to say how it was fortunate that the region had still been able to move forward with their plans at Corvera airport, despite the PSOE's attempts to hinder the process.
Meanwhile the President of Hostetur, the association of Hoteliers, said how an AVE connection to the airport always seemed unlikely, but that now every effort should be spent in establishing a series of good bus connections to the airport rather than going to the expense of building a shuttle train.