Valencia Gov't to pay €60 million Castellon Airport debts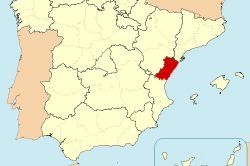 The regional government of Valencia is still trying to find a suitable management company to operate Castellon airport, privately owned by Aerocas, chaired by former provincial president Carlos Fabra, and who the region is the majority shareholder in.
The succesful appointment of such a company would not only benefit the regional budget, but also lead to the release of €30 to €40 million held by the current concessionaire Conaer, and allow outstanding payments to be made to suppliers of around €20 million.
The Regional Minister for Tourism, responsible for overseeing Aerocas, has been leading the negotiations with Globalvνa ​​(who is jointly owned by FCC and Bankia), the main shareholder Conaer, to agree on a compensation package for breach of contract where they claim that a total of €120 milliom would been lost on the project in construction costs and revenues over the term of the contract.
The regional President, Alberto Fabra, claims that the compensation will not cost the airport more than €30 million, however it is undertsood that Globalvia is demanding €40 million, with a further €20 million due in payments to suppliers.
This huge debt, which would cost the region up to €60 million, makes the immediate privatisation of Castellon airport all the more attractive to the regional government, and something which they are confident of acheiving in the next few weeks.