AENA deny Alicante passenger losses are due to Ryanair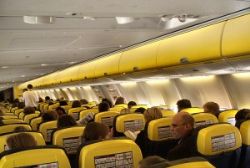 Spanish Airports and Air Navigation (AENA) today denied that the fall in passenger numbers and scheuled routes to and from Alicante's El Altet airport has anything to do with their ongoing dispute with Ryanair over the enforced use of airbridges at the airport.
Last October Ryanair cut a number of routes for the winter period and fauiled to re-introduce them for the summer schedules, meaning that a total of 19 routes were lost from the airport, with frequency reductions in a further 18.
It is estimated that a total of 300 flights per week will be lost over the summer period, with the loss of 1.5 million tourists.
AENA maintain that the decrease in passenger number is due to the economic downturn in general and not as the result of action by any one airline.
Ryanair claims that they account for 204'000 of the 236,000 passengers lost at Alicante airport since October of last year, with other airlines accounting for 32'000.
Ryanair also claim that their decision to cut routes at the airport is reversible, and that routes will be re-introduced if their passengers are permitted to embark aircraft at all gates, as was agreed in their 2007 contract with the airport.