'Spain on track to meet deficit target' : Montoro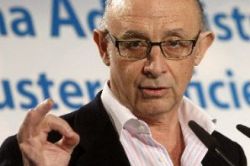 The Spanish Minister for the Economy, Cristobal Montoro, yesterday explained how the country was on track to hit it's deficit target, despite a year-on-year increase in the deficit-to-GDP ratio over the course of Q1 of 2012.
Montoro told parliament that the central government's budget deficit now stood at 0.83% of the country's economic output by the end of March this year, whilst the figure for the same period last year was 0.64%.
Conservative Partido Popular Government, led by Prime Minister Mariano Rajoy, announced the details of their 2012 draft state budget just 3 weeks ago, which economists commented was the most austere budget since 1978.
The measure include 27 billion euros in spending cuts and tax increases, and set its targets to reduce public deficit from 8.5%of GDP to 5.3% this year and just 3.0% in 2013.