'Missing deficit target would hurt EU' : Montoro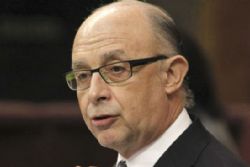 Spain's Minister for the Economy, Cristobal Montoro, has commented how European and global growth would be damaged if the country was to miss it's budget-deficit targets.
As a preventative measure he threatened to assume control of the accounts of regions that are unable to control their own deficit.
The Minister assured lawmakers that achieving these targets was of paramount importance.
Yesterday it was revealled how the budget deficit had shrunk from 0.93% of GDP to 0.83% from the previous year.
Spain's cost of borrowing have also increased by around 1% since the end of February, approaching the 7% mark where Greece, Ireland and Portugal were forced into accepting bailouts.
Montoro said he will be "inflexible in asking each region and each municipality to correct its public finances and meet its deficit target," and that the government's efforts to reduce the budget gap are intended to improve citizens' well-being. He also said that there is no European law in place being imposed by the EU's strongest states on the weakest.
The central government budget gap was 1.85% during Q1 compared to 1.06% a year earlier.