Toyota working with Spain's Gamesa to develop electric vehicles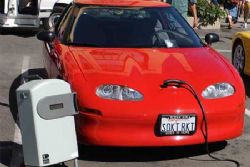 Toyota is currently working in conjunction with Spanish Electricity producer, Gamesa, to test and promote the Toyota Prius hybrid car.
The project will specifically focus on analyzing the cars performance and battery charging requirements.
Jacques Pieraerts, President of Toyota Motor Corporation in Spain commened : "The technology of plug-in electric hybrid vehicle improves consumption efficiency and reduces harmful emissions, both CO2, such as those affecting air quality in our cities. The new Prius Plug-in Hybrid Electric offers the advantages of an electric vehicle for short trips with zero emissions and zero fuel consumption and extensive autonomy without limits of a hybrid vehicle with gasoline engine."
Following the announcement shares in Toyaota were trading at 80.73 at the end of thethe day, resulting in an 11.6% increase in performance over that last 3 months.
Earlier this year Toyota also announced their partnership with the Basque Ministry for Industry, Innovation, Trade and Tourism to open a Control Centre for IBIL, the electric vehicle charge point manager , created by the Basque Government in a joint initative with the Basque Energy Entity (EVE) and Repsol.