Correos to cut 2'000 jobs in 2012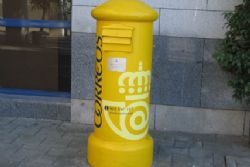 The President of Spain's Correos , Javier Cuesta Nuin, has announced plans to cut up to 2,000 jobs this year, after making 4'000 cuts last year.
Cuesta appeared before the Budget Committee last week, to explain how the cuts were necessary for the survival of the company in a "very difficult economic environment".
There has been a falling demand for mail services in a market that has been fully open to competition since January 2011, with efforts to increase revenues being insufficient to cover losses.
Correos achieved a €1.9bn in sales in 2011, falling from 8.9% on 2010, and while operating costs were down 3.5% compared to 2010, however losses stood at €164 million.
The increase in Internet useage has brought falls in Correos useage of 24.8% since 2007, with a fall of 7.9% in 2011 alone, in a country that already has one of the lowest mail volumes per capita in Europe.
Cuesta predicted that demand would continue to fall, with a 5% decline for 2012.
The company has slashed their number of employees from 68,000 in 2008 to around 61,000 last year. "This year's planned reduction of postal work is about 1,900 to 2,000 jobs in 2012, about half of those in 2011," Cuesta said last week. "There are a number of measures that can cover this, including voluntary redundancies and the transfer of staff from Correos – around 22,000 – back to central government."
Despite the continuing reduction in the work force, Cuesta insisted to the Budget Committee that there would be no reduction in service quality, with the company is planning to invest €74.3m in its infrastructure in 2012 to continue automation, transport and IT improvements.