Europe considers EU bailout aid for banks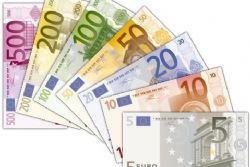 The European Central Bank and a group of euro zone countries are working on a possible initiative to enable crisis-stricken banks to have direct access to Europe's permanent bailout fund, German daily Sueddeutsche Zeitung wrote on Thursday, without citing sources.
"According to the Sueddeutsche Zeitung's information, a group of euro zone countries will check in the next two weeks how credit could be directly transferred to banks that are strapped for cash but able to survive," the paper said, noting, however, that Germany strongly opposed this.
"The reason for the haste is the crisis in Spain and the worry that this could spread to further euro countries."
According to the existing agreements, countries rather than banks can tap the European Stability Mechanism.
The Sueddeutsche Zeitung reported earlier this month that there was a dispute over the allocation of funds in the common currency bloc and that some officials of the ECB and a number of euro zone countries were pressing for a relaxation of the terms under which Europe's bailout mechanism can dispense aid.