Aerocas to seek buyer for Castellon airport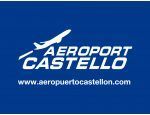 The Minister of Tourism for the Autonomous Community of Valencia, Lola Johnson, has explained how the region will seek a buyer for Castellon airport as soon as the necessary saftey and operating licences have been awarded.
Earlier this year the owners of the airport, Aerocas, reached an agreement to release Airport Concessions from their contract to operate the airport. After failing to attract interest from publically-owned AENA to take their place, Aerocas, who report to the regional Ministry for Tourism, have had to re-think their entire business model.