Gov't asks AENA for induvidual status report on each airport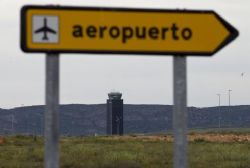 The Ministry of Public Works has initiated a study to analyze the efficiency and viability of AENA's network of airports to assess their current state before making decisions about the possible closure of some of any facility that may be unprofitable or underperforming.
This announcement was made earlier today by the Secretary of Public Works, Mario Garces, in a press conference following his meeting with the Association of Managers and Executives of Aragon (ADEA).
Garces made the request ​​to the President of AENA, asking him to prepare a master plan for each of the country's 49 publically owned to assess their induvidual profitability, both from the standpoint of economic and financial, as and social development.
Once the reports have been submitted, Garces said how the "appropriate decisions" would be made.
The Secretary declined to name any particular airport induvidually.