No to compensation fund for victims of collapsed airlines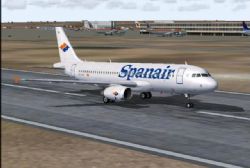 The President of the Association of Spanish Air Transport Companies (ACETA), Manuel Lopez Colmenarejo, yesterday rejected the proposal to create a fund, financed by the airlines, to compensate for passengers affected by the collapse of airlines, such as Spanair.
Lopez Colmenarejo warned that imposing such a measure would affect ticket prices, but also that profitable airlines would effectively be subsidizing those that were not.
He also claimed that it was unfair that other airlines should shoulder the burden of those that failed due to poor management.
Upon being asked about the impact that recently announced airport tax increases would have on the industry, he commented that h had "deep concerns" and that the current state of the economy, together with increasing fuel charges could only make thing worse for a number of airlines who were already in a weakened state.
The Association of European Airlines (AEA) have already reported an expected loss of between €760 and €1,520 euros for the sector in 2012 .