Todays Iberia strike brings 122 cancelled flights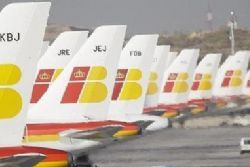 Today's strike action by Iberia Airline Pilots has forced the cancellation of 122 flights.
Today marks the 6th of a total of 30 days of 24 hour strike action to take place until the 20th of July, where SEPLA union members are protesting over the creation of the airline's low-cost subsidiary, Iberia Express.
A total of 56 domestic flights have been cancelled, together with a large number of European and long-haul flights.
As with previous dates of strike action, passengers can postpone their flights to later dates or get a full refund on the cost of their tickets.
Elsewhere today Juan Molas, the president of the Spanish Confederation of Tourist Hotels and Accommodation (CEHAT) made an official complaint to the government today on behalf of his members, criticising the pilots for their continual threat to the livelihood of other members of society, especially at such a critical time for the Spanish economy.
SEPLA have already called upon the Government to arbitrate between themselves and Iberia in order to help find a resolution.