Unemployment in Spain now at 18 year high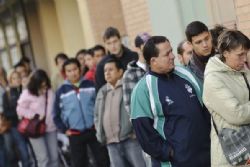 Spain's National Institute of Statistics (INE) released a report earlier today showing how the country's unemployment figure has now reached 24.4% - the highest level it has been at in 18 years.
The figure increased from the 22.9% level recorded during the first quarter of 2012, and higher than the 23.8% average predicted by a poll of three analysts, surveyed by Bloomberg.
Last week the Bank of Spain confirmed that Europe's fourth largest economy has now entered it's second recession since 2009.
A report issued last week by FUNCAS - an association of the country's savings banks - predicted that unemployment would rise to 24.5% before the end of 201 .
The Government has pledged to reduce the budget gap to 5.3% of GDP in 2012 from 8.5%in 2011 and by more than 2 percentage points next year to get within the EU's 3% limit.
The IMF said on April 17th it expects budget deficits to persist in Spain, where the economic recession will be deeper than in other euro-region countries. The IMF forecasts a shortfall of 6% of GDP in 2012, narrowing to 4.1% in 2017.