Spain woes lift sterling to 22-month high vs euro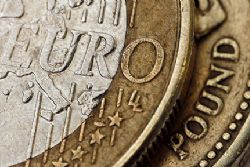 Sterling hit its highest level in nearly 2 years against the euro on Friday as a ratings downgrade of Spain reignited fears about problems about the euro zone's worst-indebted economies, pressuring the common currency.
Although concerns remained about a fragile British economy after data this week showed the UK entered recession in Q1 of 2012, analysts said sterling was still favoured as an alternative to the troubled euro and could gain further.
A survey overnight by GfK showed UK consumer morale weakened in April, but data recently has been mixed, with lender Nationwide on Thursday reporting consumer confidence hit a nine-month high last month.
The pound has performed well since Bank of England minutes last week suggested policymakers were unlikely to opt for more quantitative easing due to worries that inflation may not be falling as they expected.
The euro fell to 81.345 pence, marking is lowest level in 22 months.
Further losses would see it target 80.67 pence, a low hit in late June 2010 and below there would mark levels not seen since the aftermath of the Lehman Brothers' collapse in 2008. This would open up the prospect of a breach of the psychologically key 80 pence level.
The move mainly reflected weakness in the euro after Standard & Poor's cut its credit rating on Spain by 2 notches, citing expectations that government finances will deteriorate further. Weak Spanish jobs and retail sales data added to the grim mood.
"Euro/sterling has been kicked lower by the Spanish downgrade and it's more of a negative euro move, but sterling is generally doing quite well at the moment," said Lee McDarby, head of dealing for corporate and institutional treasury at Investec.
"Technically the UK is in recession but the pound has not sold off massively, which suggests maybe it has found a new range ... Sterling is benefiting from people diversifying out of euros and there aren't many choices out there."
But traders said the euro's falls may be limited for now due to reported bids around 81.30 pence and an options barrier reported at 81.25 pence.
Against the dollar the pound was steady at $1.6175, near a 7-1/2 month peak of $1.6208 hit on Thursday. This left sterling's trade-weighted index at 83.3, matching a level hit on Tuesday which was its highest since August 2009.
Some analysts believe the UK economy is on the road to recovery and first quarter GDP figures may be revised up. Others, however, warn it remains fragile, particularly given its strong trading links to the euro zone and say this may limit the pound's scope for gains.
The prospect of more monetary easing cannot be ruled out, with BoE Monetary Policy Committee member Martin Weale saying on Thursday that the GDP figures were a disappointment and strengthened the case for more quantitative easing.