Cabinet to approve EU fiscal stability report today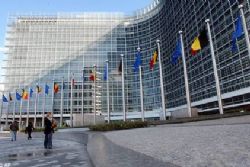 The Cabinet is due to meet later this afternoon to approve the final version of the fiscal report which all EU member states must prepare to show they are serious about tackling their debt and sticking to deficit rules.
This 'stability report' includes plans for billions of euros in spending cuts and tax increases, which the government hopes will enable it to meet the fiscal targets set by the European Commission, the EU executive body that polices fiscal discipline in the 27-nation bloc.
The European Commission has given Spain until April 30th to submit the report.
Much of the detail of the report is already known and has been agreed upon, however the Commission will use it as a tool to monitor the commitment of the government in lowering its budget deficit to 5.3% of GDP for 2012 from 8.5% of GDP last year. If the commission wants changes, often the case with stability reports, it is expected to propose them in the coming weeks.