Iberia Strike action called of as Gov't forces compulsory arbitration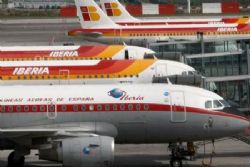 On Friday afternoon the Government finally responded to calls from Unions and the Spanish Tourism Industry to intervene in the dispute between Iberia Airlines and their Pilots, represented by the SEPLA Pilots union.
SEPLA had previous expressed their willingness to enter arbitration following 6 months of disputes and protests against the creation of the airline's Iberia Express low-cost subsidiary, but this had previously been rejected by Iberia.
Vice-president Soraya Sáenz de Santamaría, gave a press conference following the meeting of Council of Ministers yesterday, confirming that compulsory arbitration order now means that the strike action has to be immediately suspended.
Sáenz de Santamaría underlined the fact that this move was designed to put an end to the series of one-day strikes that began back in December, which had cost the airline an expected €3 million per day in lost revenues.
A total of 12 days of strike action have been held since December 2011, with a further 24 intended to take place on every Monday and Friday until the 20th of July.