First flight lands at Corvera airport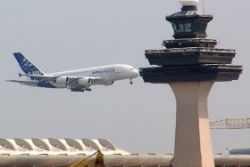 The first flight has landed at Corvera International Airport in order to test out the navigation and operating systems at the facility.
The test was overseen by AENA, who monitored the radio, radar and navigation systems for aircraft when taking off and landing at the airport from a number of different heights and headings. Such calibration needs to be undertaken in order to prove that the airport complies with the International Civil Aviation Organization and the Directorate General of Civil Aviation.
The results of the test will also be included in a report to help re-define the airspace by a report be submitted to the Ministries of Development and Defence.
Murcia's Minister of Public Works, Antonio Sevilla, has said how the required corridor of airspace has been approved by the Military, who will continue their operations from the nearby San Javier airport.
AENA will also submit their findings to the various airlines who have expressed an interest in flying into Corvera.
Sevilla appeared at a press conference yesterday along with Jose Luis Gomez Sierra from Aeromur, and the Director General of Transport Antonio Sanchez-Solis, where they explained the importance of today's test flights in establishing the future of the airport.
The test flights were originally scheduled to take plave in February, but had to be postponed due to delays in the negotiation process with AENA, caused by the change of central government administration at the end of last year.