Standard and Poor downgrade Spain's Banks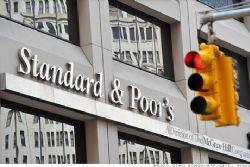 Last week Standard & Poor's credit ratings agency reduced the rating for Spain from A/A-1 to BBB+/A-2 with a 'negative outlook'.
S&P have also noted how this has had a negative effect on many Spanish Banks, and could also have negative implications for their view of the economic risk and industry risk affecting the Spanish banking industry.
Earlier today the agency took rating actions on the following Spanish banks:
Long and Short term credit reduction on Santander; Banesto; BBVA; Sabdell; Ibercaja: KutxaBank; Banco Civica; Bankinter; Barclays; Bankia; Banco Popular; CECA; CaixaBank; La Caixa
Standard and Poor's credit ratings agency is due to give a further review of the induvidual banks operating in the Spanish financial sector by the end of May.