Holiday bookings to Canaries down 13 pct on 2011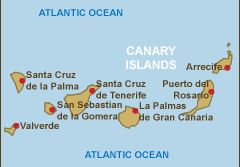 Tour operators have warned that Spain will see a decline in foreign holidaymakers this year, due to the Spanish Tourism Office cutting back on the financial support that they had previously offered operators to promote a number of destinations.
Package holiday bookings for the Canary Islands are already 13% down on last year, according to Cosmos Holidays.
For their part, the Tourism Office said how this fall was to be expected after cutting their previous investment in promoting the country to virtually nothing.
Hugh Morgan, MD of Cosmos, warned that the recent decision taken by the Government to increase Airport taxes from July will damage business even further. Cosmos will absorb the increase for passengers who have already booked their tickets, but it will have to pass on the extra tax on to new customers, he said.
A number of budget airlines such as Ryanair have already e mailed passengers who have already purchased tickets to advise them that they will need to meet this extra charge.
Bookings to the Balearic Islands and the mainland are performing better, with a decline of 5% for this year.