Primark open 26th store in Spain this weekend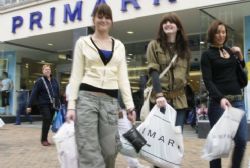 Primark is due to open it's 26th Spanish store this weekend.
The new outlet is located in the Majadahonda shopping centre on the outskirts of Madrid, which already has a further 6 stores in the city.
Primark currently employ some 3'5000 staff in Spain alone and their expansion has come at a time which suits cost-concious consumers and job seekers alike. The Alicante store, which opened just 5 weeks ago, recieved 21'000 job applications for the 190 available positions, with the recently opened Cordoba store recieving 9'000 applications for the 166 vacancies.
A further 7 stores in Spain are scheduled to open before the end of 2012, with next opening being Valencia on the 23rd of May.Stores are currently located in : Algeciras; Bilbao; Barcelona; Jerez; Castellon; Cornella de Llobregat; La Coruna; Elche; El Mirador; Madrid (x7); Malaga; Marineda; Murcia; Oviedo (x2); Zaragoza; Alicante; Cordoba; Vizcaya and Cadiz.
Last weekend Apple also opened their news 6th store at the Majadahonda shopping centre.