Study Criticises Girona and Reus airports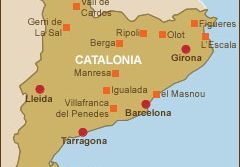 Two Spanish airports have appeared in a report of the "15 most misleadingly named airports".
The study, compiled by www.skyscanner.com, compared a number of airports and measured the distance to the centre of the city under which name they were commonly advertised or promoted.
In almost every case, the airports were commonly used by low-cost or budget airlines and had poor infrastructure in place to connect the airport to the city centre.
Girona and Reus were the only two Spanish airports to feature on the list (in 7th and 8th place) where it was noted that Ryanair in particular promoted each airport under the name "Barcelona". Each airport is located some 54 miles outside of the city, which also has it's own airport.
The 15 worst culprits :
1. Paris-Vatry (Disney) - 93 miles (150km) from central Paris (and 70 miles (112km) from Disneyland Paris)
2. Munich West (Memmingen) - 70 miles (112km) from central Munich
3. Oslo (Torp) - 68 miles (110km) from central Oslo
4. Frankfurt (Hahn) - 68 miles (110km) from central Frankfurt
5. London (Oxford) - 60 miles (97km) from central London
6. Stockholm (Skavsta) - 59 miles (95km) from central Stockholm
7. Barcelona (Girona) - 58 miles (94km) from central Barcelona
8. Barcelona (Reus) - 58 miles (94km) from central Barcelona
9. Paris (Beauvais ) - 55miles (88km) from central Paris
10. Dusseldorf (Weeze) - 50 miles (80 km) from central Dusseldorf
11. London (Stansted) - 40 miles (64km) from central London
12. London (Southend) - 40 miles (64km) from central London
13. Tokyo (Narita) - 37 miles (60km) from central Tokyo
14. Verona (Brescia) - 33 miles (53km) from central Verona
15. Glasgow (Prestwick) - 32 miles (51km) from central Glasgow