Castellon Airport 'Not for Sale' : Fabra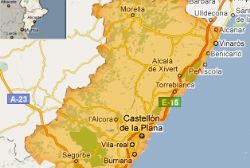 Carlos Fabra, the former PP President of the province of Castellón and now President of Aerocas, the concession holder of Castellon Airport has responded to criticism by the press of the inability of the facility to find a buyer.
"There is no buyer, becuase it is not for sale."
However, Fabra continued to say that once the required approvals and licences were in place, that Aerocas would consider any offers put to them.
He went on to confirm that they were in contact wihth AENA with regards to the possibility of their operation of the airport, but would not be drawn on giving a date for when the airport may become operational.
Interestingly, he also told the press that "The important thing is to get the maximum return at a lower cost". This seemingly contradicts a statement made by the current President of Castellon, Javier Moliner, when he told Europa Press how the airport should not set itself a target of becoming profitable.