Security for ECB Summit cost €1 million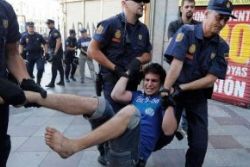 The first day of the European Central Bank summit in Barcelona passed by without incident yesterday, despite a heavy security presence.
A security force numbering 8'000, made up from representatives of the Guardia Civil, Policia Nacional and Mossos d'Esquadra convereged on the city in anticipation of a number of demonstrations and protest marches attempting to disrupt the talks.
Border controls with France had been tightened prior to the weekend, and an increased Guardia presence had been implemented at Barcelona's El Prat airport as measures to keep known protestors away from the summit. The Guardia were able to detain 17 such activists at their border controls to prevent them travelling on to Barcelona.
However, 2'000 protestors - mostly students - were able to march in demonstration over proposed increases in University tuition fees, but the demonstrations passed peacefully and without incident.
Albert Carreras, deputy head of finance for the Generalitat Catalunya, said the pverall cost of providing security for the summit came to €1 million - a cost which is unjustified in times of austerity, and that the meetings should have been held at ECB headquarters. He noted that the decision to hold the summit in Barcelona was based on an invitation by the PM, and the the regional authorities had not been consulted.