Ferry Company take on Ryanair over Barcelona - Menorca route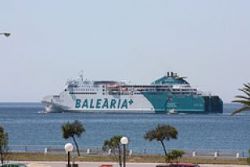 A Ferry company is taking on Ryanair following the recent introduction of their Barcelona - Menorca route.
Balearia Ferries is offering tickets for passengers for just €30.50 until the 15th of June - an offers which is considerablly lower than usual prices and compares favourablly with flying. The Ferry company reminds passengers that whilst Ryanair are offering flights from as little as €4.50, by the time luggage, taxes and other costs have been added the final cost of the booking is rarely below €50.
On the down side, the journey between Barcelona and Menorca can take between 7 and 9 hours, and only sails 4 times per week. The ticket price also does not include the cost of a cabin, or armchair and as such those purchasing a basic ticket can only be seasted in public areas such as bars or cafeterias.