Argentina nationalizes oil company YPF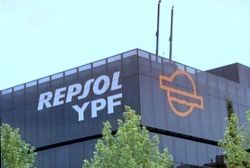 Argentina's Congress nationalized the country's biggest oil company, YPF, by an overwhelming lower house vote on Thursday that underscored broad popular support for a measure that threatens to scare off foreign investment.
The Chamber of Deputies voted 207-32 in favor of expropriating YPF, clearing the way for President Cristina Fernandez to sign the bill into law. The Senate last week approved the measure by a similarly overwhelming margin.
Fernandez, who has tightened state control of the economy, unveiled the plan to seize a majority stake in YPF from Spain's Repsol 6 months after her landslide re-election.
The move drew a swift reprisal from Spain, which curtailed Argentine biodiesel shipments. Wall Street warns that Argentina risks scaring off investment needed to bolster growth against fallout from Europe's debt crisis and slower demand from key trade partner Brazil. Business groups have long been put off by Fernandez's policies, such as her government's takeover of Argentina's private pension system in 2008 and, more recently, import and foreign exchange controls that have hurt confidence.
Fernandez justifies the renationalization of YPF - which was privatized in the 1990s after decades as a state-owned company - on the grounds that it failed to boost oil and natural gas production needed to keep up with local demand.
Energy import bills have shot higher, putting Argentina's prized trade surplus at risk.
Repsol denies under-investing, but the government's message has struck a chord with Argentines, many of whom are suspicious of foreign companies and blame the free-market policies of the 1990s for setting the country up for its 2001/02 sovereign debt default and shock currency devaluation.
"All oil companies that operate in Argentina, Repsol and the rest, have to work in the public interest, which in this case means energy self sufficiency for Argentina," Agustin Rossi, leader of the official bloc in the lower house, shouted during a speech to the chamber just before the vote.
"Repsol invested little in Argentina," Rossi said. "But it was YPF and Argentine oil that financed Repsol's growth around the world."
With the private sector worried more nationalizations may be on the way, attention now turns to how much Argentina will pay Repsol for control of YPF. Officials have said it will be a lot less than the $9.3 billion the Spanish company wants.
Relieved of much of its debt burden after the 2001/02 default and bolstered by high international soy prices, the grains-exporting powerhouse fared better than many countries in weathering fallout from the 2008 world financial crises.
The government budget predicts 2012 GDP growth of 5.1%, down from 8.9% last year.
"The goal is for YPF to be aligned with the interests of the country," Fernandez said in a speech on Thursday.
"When corporate interests are not aligned with national interests, when companies are concerned only with profits, that's when economies fail, which is what happened globally in 2008 and what happened to Argentina in 2001," she said.
Citing similar arguments, Bolivian President Evo Morales this week nationalized the local unit of Spain's Red Electrica Espanola, adding to the former colonial power's concerns about investments in the region.
TARNISHED REPUTATION
While most of Fernandez's local critics agree that YPF should be in state hands, some say her confrontational approach could harm the country's already tarnished reputation abroad.
"It's a good move for the country because if the government does not control strategic resources such as oil, it loses power," said financial analyst Leonardo Rodriguez, 32, as he sipped a latté in the well-heeled Buenos Aires neighborhood of Puerto Madero.
"But the approach used in taking over the company, without negotiating, was too jarring and authoritarian," Rodriguez said. "There could be serious consequences. I mean, who wants to invest in a country where the government expropriates private property from one day to the next?"
A gifted public speaker who never appears in public without her trademark mascara and high heels, Fernandez has billed the YPF renationalization as central to her election pledges to deepen the interventionist policies began by her late husband and predecessor as president, Nestor Kirchner.
"The real custodians of his legacy are you," she told supporters at a rally last week in Kirchner's honor. "I know you will never permit a step backward."