ECB delegates denied inspection of Castellon airport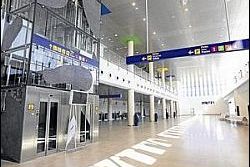 The Deputy Spokesman to the Senate for the Etesa political party, Jordi Guillot, raised two questions to the house yesterday concerning the recent European Central Bank Summit, held in Barcelona over this last weekend.
His first question was for it to be made known the final cost to the country in providing the security for the ECB summit, where some 8'000 Guardia, Polica Nacional and Mossos d'Esquadra officers were deployed at an 'estimated' cost of €1 million.
His second question was why ECB delegates were denied permission in their request to visit Castellon airport.
Until his second question can be answered it can only assumed that the various national and regional politicians did not wish to further dwell on their own embarassment and invite yet further criticism of the facility.