The sorry state of Andalucía's airports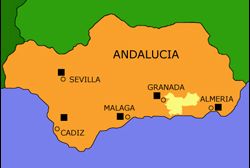 AENA's Federico Garcia Lorca Granada-Jaen airport generated debts of almost €6.1 million over the course of 2011.
This represents an increase in losses of 17.2% on 2010, when total debts reached €5.18 million, and 13% up on 2009 when debts stood at €5.6 million.
AENA explain this by way of a fall in passenger numbers. In 2011 the airport saw 872'762 arrivals and departures, representing a 10.8% decrease on 2010.
Likewise, revenue for 2011 totaled €7.7 million, representing a 9.9% less fall on the previous year.
The total accumulated debt at the airport is now believed to stands at €89.5 million, and leaves the airport struggling to finance future infrastructure requirements.
The other regional airports of Andalucía are not performing much better. Malaga airport ended 2011 with losses of €20.6 million, followed by Jerez with a deficit of €9.5 billion, Almeria, with losses of €7.9 billion and Cordoba with €3.9 million.
The only exception within the region is Sevilla airport, returning post-tax profits of €6.05 million.