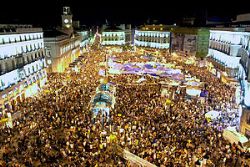 Prior to the 14th of May 2011 anyone could be forgiven for have never heard the word "15-M" or even "Los Indignados" .
However, just days later the national and International media was awash with news of the demonstrations held across Spain on the 15th of May, and of the national movement which took its name from the date.
Dozens of largely peaceful protest marches and demonstrations were held in towns and cities across Spain, with that of Madrid's Puerto del Sol square being the figurehead of the movement.
Protestors occupied the square : Sleeping, eating, washing and socialising in shanty towns throughout the late spring and summer to draw attention to what they deemed to be the corruption and ineptitude of the (then) Zapatero government in tackling the economic crisis and rising levels of unemployment seen in Spain.
What perhaps set the "15-M" protest apart from previous mass-movements was its reliance on social media networks to mobilise support : Troops were rallied using Facebook and Twitter, escalating in such a way that the original 15-M protestors in Madrid were able to inspire and share organisational tips with protestors in other cities.
The occupation of the Puerto del Sol became an embarrassment for the Zapatero government, and was never far from the front pages of the press, but being largely peaceful meant that the authorities had little reason to regain control of the square. The occupation lingered on until October.
However, things were different in Barcelona. In August protestors were violently evicted from the Plaza de Catalunya when the authorities deemed it necessary to clean the square, and that the occupying protestors were preventing this. 100 protestors and 12 police officers needed hospital treatment as a result, with the Chief of Police for Catalunya being taken to court for his part in the proceedings, eventually being charged with leading his force into using "excessive force".
Although the occupation of various towns and cities across Spain has died down over recent months, the 15-M organisation has evolved and still retains the sympathies of many Spanish residents and has gone on to inspire a number of similar movements in other countries around the world, such as "Occupy Wall Street". Just last month it was revealed how the movement has now been able to gain the status of being a registered 'Non-Profit' organisation, and as such "Los Indignados" .
Furthermore, El Pais has this week reported how the group have planned 10 separate "assemblies" to be held in the plaza's surrounding M-15's ground zero – Puerto del Sol – to mark the anniversary of the movement. These assemblies will each holding meetings and debates on separate subjects such as Healthcare, Education etc... it remains to be seen if this will evolve into a protest march or demonstration, but there is little doubt that the eyes and ears of the media will be taking note.