IAG 'may consider' paying premium to speed up UK immigration process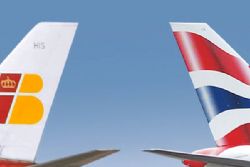 The CEO of IAG, Willie Walsh, has spoken of his confidence that the UK government has the problems of long delays at border control and immigration at Heathrow under control.
The parent company of Iberia and British Airways has experienced a number of recent delays at their main UK base, with reports of a number of passengers being forced to wait for more than 2 hours to get into the country.
"We have seen very significant improvement in the performance of immigration at Heathrow and that needs to continue," said Walsh.
"I'm pretty confident the government will get control of it. The prime minister has got personally involved and that gives us a lot more confidence than if [immigration minister] Damian Green had just been dealing with it.
"But the government should be ashamed that it tried to convince people that the problem was not as bad as it was."
Walsh said that the programme put in place for dealing with increased passengers during the Olympics was "pretty robust". But he added he was concerned about problems after the games when resources at Border Control would be reduced.
The UK's Minister for Immigration is due to give an update on the subject of delays at Heathrow airport to the House of Commons' Home Affairs select committe tomorow.
Walsh said that he did not expect this to mean an increase in fees or other charges to the airlines in order to implement any new system that may be required.
"I see no reason why airlines should have to bear any additional cost over what the Home Office already provides," he commented.
"The cost per person of going through immigration is £3.20. They should have sufficient resource within this existing cost if they target these resources on the known flows of traffic."
Walsh added that IAG would consider paying for improved services which could speed up the immigration process for premium customers.