Cabinet announces revision in property rental law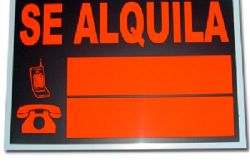 Following a meeting of the Cabinet last week, the Government has announced that duration of official contracts of tenancy for rental properties is to be reduced.
The measure will see the maximum duration of long term contracts being cut from 8 to 4 years, and with a landlord only being required to give 2 months notice if he wishes to take possession of the property. Tenants wishing to force the extension of a contract will now only be able to apply for a 3 year extension as opposed to the previous 5 years.
The Ministry of Development has been considering the measure in a bid to encourage landlords to bring empty properties to brought back into circulation on the rental market, thereby helping those in need of affordable housing.
Up until recent months Spanish eviction laws have strongly favoured the tenant and as such many property owners have chosen not to rent out any empty properties they may have inherited, or purchased in order to speculate on the property market.
The cabinet also announced a reduction in taxes for those selling their property, with a 50% exception of plus valia tax until the end of 2012. The will apply to the IRPF, the rental tax on non-residents, and business tax.