AENA issue statement on legality of 'One piece of handluggage ruling'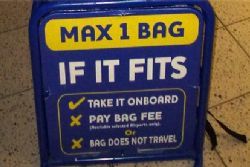 The various policies concerning hand luggage by different airlines has long been a contentious issue with the state owned operator of airports in Spain, AENA.
Many Spanish airports reportedly earn as much as 32% of their profits from the sale of duty free products, and as such have complained against the insitance that passengers can just carry one piece of hand luggage per person - which must include any duty free purchases.
Stricter adherence to this rule by many budget airlines over recent years has resulted in a dramatic loss of revenue for AENA, which has resulted in them examining the legality of such a ruling.
A statement issued by AENA this weekend read : " To all air companies without exception, we remind you that current legislation 'allows passengers to embark on the aircraft carrying the products purchased in the airport shops and correctly packed' and that their transportation as hand baggage 'must be carried without charge'."
AENA also reminded offending airlines that Article 97 of the Air Navigation Law states : "Airlines are obliged to transport, with the passenger, and included in the ticket price, the luggage within the weight limits, independent of the number of packages and volume , fixed in the regulations".
Elsewhere, a further regulation notes that : "The airline is obliged to carry, and for free in the cabin as hand baggage, the objects and packages which the traveller carries with him, including the articles acquired in the shops of the airpor."
AENA concluded that any passenger wishing to complain about any enforcement of the 'One piece of hand luggage' policy should make an official, written complaint to the State Air Security Agency (AESA).