US Senator calls for Argentina to be suspended from G20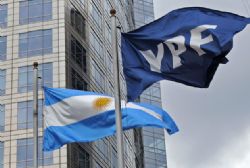 A US senator has proposed that Argentina be removed from the G-20, accusing President Cristina Fernandez de Kirchner of "violating international rules and agreements" following the expropriation of YPF-Repsol.
Senator Richard Lugar , the highest ranking representative of the Republican Party in the Committee of the Senate Foreign Relations, believes that "Argentina has not fulfilled the responsibilities of membership in the G-20", and has requested that they be suspended until they can demonstrate that they can "adhere to the rules of international economic relations and respect the law."
Just last week the Vice President of Argentina, Amado Boudou, made a visit to Washington to explain the reasons for the expropriation of YPF and defend the credibility of his government.
The subsequent comments of the Senator suggest that he failed in doing so.