San Javier Airport sees 11pct fall in passengers amid Corvera confusion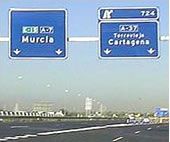 Murcia's San Javier airport saw an 11% fall in passengers numbers during the month of April, with figures falling from 126'675 in April 2011 to 112'956. The number of flights fell by 9.3% to reach 1'136 operations.
AENA's network of Spanish airports as a whole saw a 14% decrease in passenger numbers over the same period.
Whilst the on-going economic downturn and recession is likely to have had an effect on the number of tourists wishing to travel to the Murcia region, together with disruption caused by by numerous airline strikes and collapses, the uncertainty surrounding the exact opening date of the new international airport at Corvera is likely to have played it's part.
Until March of this year it was understood that the airport was on schedule to be fully operational by this summer, with San Javier airport preparing plans to to scale back operations. However, the required safety tests were not undertaken until the 28th of April, meaning that commercial flights can not commence until October 2012 at the very earliest.
A number of airlines already have plans to continue flying to San Javier for the Winter 2012 / 2013 season.