Castellon airport "Unnecessary"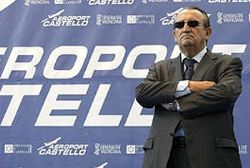 The Deputy for the Compromís party for Castelon, Josep Maria Pañella, has responded to Carlos Fabra over the Castellon airport project, calling the infrastrcuture expenditure "unnecessary".
Pañella went on to say how Aerocas management of the project had been "disastrous", with debts escalating way beyond all initial expectations, yet with with the facility still waiting to receive it's first arrival.
The Deputy maintained that the project could be quickly turned around if the Provincial and Regional governments would recognise this fact "but they will not".