Spain says urgent measures needed for financial stability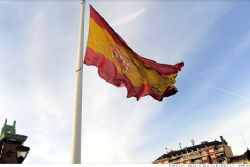 Spain's PM Mariano Rajoy said on Monday that urgent solutions were needed to guarantee financial stability in Europe rather than drawn-out debates on instruments that would take time to be implemented, such as euro bonds.
"I believe that right now, it's much more urgent to resolve the problems of financial stability ... The euro bonds, assuming they're approved, need a debate, need time," Rajoy said during a televised press conference following a NATO summit in Chicago.
France's Francois Hollande will push a proposal for metalizing European debt at an informal summit of EU leaders in Brussels this week.
Spain has been the centre of investor attention due to concerns the country faces an unquantified capital hole in its banking system.
Yields on Spain's 10-year government bonds jumped to six-month highs last week, close to levels considered unsustainable.
"The main factor of growth right now is financial stability. All the other matters must be covered, but that's the priority," Rajoy said.
"(Financial stability) can be achieved quickly, doesn't need debates or long discussions or studies or regulation, which is going to take 2 or 3 years to take effect. This is a decision which can take effect within 24 hours," he said.
Economy Secretary Fernando Jimenez Latorre said on May 17 that Spain has made the necessary budget cuts and structural reforms and that it was now the turn of the European Central Bank to act.
Rajoy also said his meeting with British Prime Minister David Cameron would concentrate on the economy and would not broach the rising tensions between the two countries over the disputed territory of Gibraltar.
"My meeting with Mr Cameron will exclusively cover matters related to the euro zone economic situation," he said.