200 officials invited to attend Paramount ceremony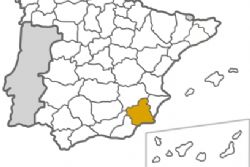 The Minister of Culture for the region of Murcia, Pedro Alberto Cruz, confirmed that the ceremony to lay the first stone of the Paramount Pictures theme park take place as planned next week.
The ceremony will commence on site at Alhama de Murcia, at 1.00 pm on Thursday the 31st of May with 200 specially invited dignitaries in attendance.
The event will mark the start of works to install the required infrastructure on the 1'000'000 sq mt site, with works expected to be complete in time for the park to be fully open for the 2015 season.
The promotor and developer of the theme park, Proyectos Emblematicos Murcianos SA (Premursa) headed by President Jesus Samper, has been granted a licence to operate the park for a period of 30 years, to be renewable by negotiation upon expiry.