Castellon Airport "For Sale"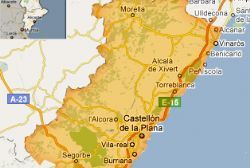 The Generalitat Valenciana is considering the sale of Castellón airport to a private company. The Vice President of Castellon, Joseph Císcar, told Consell yeterday that the regional government is "ready for any type of management, public, public-private partnership or even total privatisation."
It is hoped and expected that this kind of solution will be sought as soon as the airport is operational, which will make it more attractive to the tourism sector, and therefore to investors.
Perhaps the first step in making such a move happen will be the FITUR tourism exhibition in January. This was confirmed by the President of the Generalitat, Alberto Fabra, aswell as the President of Aeroca, Carlos Fabra.
Carlos Fabra also speculated that a sale to a private operator could also take place even if the facility was not fully operational and that "if an interested buyer came along we would talk to them".