IMF Discuss Contingency Plans for Spain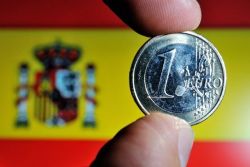 The International Monetary Fund has begun discussions over a contingency plan to bail out Spain should it fail to raise the necessary funds to bail out failed Spanish bank, Bankia.
According to sources close to the discussions, Spain is struggling to raise the remaining €10 billion it needs to rescue Bankia from collapse.
Neither the IMF or European Union have the stomach to provide a bailout for Spain to shore up it's banking sector, especially as there are already 3 bailouts currently in progress for Greece, Portugal and Ireland. Additionally, the backlash from the Spanish public could be huge should the nation be forced into a Greek style handout, especially if the rumours of a €300 billion rescue package over 3 years be required.
It has been cited that Bankia's woes are the result of the Spanish property market crash and the serious econmic downturn. However, poor management, over inflated executive pay and huge multi-million euro bonuses for failure are the more likely explanations.
Bankia former senior executive, Aurelio Izquierdo, is reported to receive €14 Million in compensation for losing his job. The compensation for former Chief Executive, Rodrigo Rato, has not been revealed.