Spain says regional deficit on track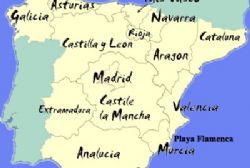 Spain's heavily indebted regions met their budget targets in the first quarter, a minister said on Thursday, and in a rare reprieve Germany agreed the nation's government could have more time to improve its finances.
Overspending by Spain's local governments and the bad debts of its banks have sent the country's borrowing costs to record highs and Friday's more benign developments may not be enough to help Madrid sell a long-term bond next week.
The risk premium investors demand to hold Spanish 10-year debt rather than German bonds rose to its highest since the launch of the euro - 548 basis points - on Friday.
The Treasury Minister, Cristobal Montoro, said that Spain's highly indebted regions managed to balance their budgets in the first 3 months of the year and were on track to meet their annual targets of a deficit of 1.5% of the national economic output.
The 17 autonomous communities registered a deficit of 3.3% of GDP in 2011 and were the main factor in Spain overshooting its EU-agreed deficit targets by about 3 percentage points last year.
Meeting the targets in the regions would now help the country deliver on its commitment with the EU to reach a deficit of 5.3% of GDP this year from 8.9% in 2011.
"In terms of aggregate result, the result is zero," Montoro said at a press conference after the weekly cabinet meeting, adding the figure was in line with the government's forecasts.
MARKET TEST
After weeks of negotiations, the government gave its blessing in May to austere budget plans presented by all 17 regions, which account for around 50% of the country's overall public spending and are responsible for their healthcare and education budgets.
The 17 autonomous communities, virtually blocked from financing themselves on public debt markets due to the high rates they would have to pay, need to refinance about €36 billions of debt maturing this year and find €15 billion to fund their authorised deficit.
Montoro said he hoped to present next Friday a new mechanism to bring their borrowing costs down, ease their funding problems and boost their liquidity positions.
The day before, Spain will sell 3 bonds, including a 10-year which will test the appetite of the markets for Spanish long-term debt at a time when the country has entered the danger zone of an international bailout.
"Markets are volatile and nervous so it's a very uncertain outlook for the sales next week. Anything perceived as weak will be leapt on," said Peter Goves, analyst at Citi.
But he said the fact the Treasury was issuing a ten-year bond rather than the shorter-dated bonds it had favoured so far this year was unlikely to spook investors already well aware of Spain's problems.
The Treasury will sell a bond maturing on Oct. 31, 2014 with a 3.3% coupon, a bond maturing Oct. 31, 2016 with a coupon of 4.25%, and a bond maturing Jan. 31, 2022 with a coupon of 5.85%.
It is due to announce the target amount it hopes to raise at the sales on Monday.