Euro hits 23-month low on Spain woes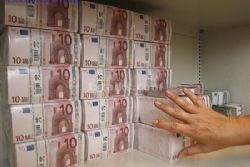 The euro sank to a 23-month low against the dollar on Friday and hit its weakest in more than a decade versus the yen as investors ditched the single currency due to escalating concerns about Spain's banking sector.
Japan stepped up warnings that it could intervene to curb the safe-haven yen's recent climb, saying the rise was being driven by speculators and that it would act decisively if excessive market moves continued.
The euro fell to a low of $1.2312 on trading platform EBS, its weakest since July 2010. It last fetched $1.2321, down 0.3% on the day, with a drop towards $1.20 likely as "bears" - betting on more weakness - remained firmly in control.
The drop in the common currency came as Spaniards sent money abroad in droves, worried about the health of the country's banks. Bank of Spain data showed a net €66.2 billion was sent abroad in March, the most since records began in 1990.
"It is looking very bearish for the euro with the latest capital flows data showing a significant amount leaving Spanish banks, all of which indicate they will probably need official help," said Peter Kinsella, currency strategist at Commerzbank.
Any help from the European rescue fund for Spain would mean an additional tax burden on Germany, Europe's paymaster, and could hurt the safe-haven status of German bunds, he added.
"It is not a situation where there is much help for the euro and chances are it is headed towards $1.20."
With German two-year bond yields falling below zero for the first time, traders said a lot of safe-haven flows have, so far, stayed within the single currency area. But if that were to change, the euro's decline against the dollar and the yen could accelerate considerably. The euro's selloff has gained steam this week as Spain's borrowing costs surged on worries it may need to issue more debt to recapitalise its banks, adding stress to markets already frayed by anxiety that Greece may exit the euro zone.
Rising costs of funding for the government risk pushing Spain towards an international bailout. The euro has fallen almost in lock step with the yield spread between Spanish 10-year government bonds and German Bunds which hit its widest levels in the euro-era this week.
EURO WORRIES
So far the ECB and euro zone leaders have resisted pressure to respond to the growing crisis. But markets remain wary that, with bearish positions at stretched levels, a policy response was increasingly likely and could spark a sharp reversal.
"They've got to act because markets are melting down," said Gavin Friend, currency analyst at NABCapital.
He added that with EU leaders not scheduled to meet until later this month, the ECB was the body most likely to react with some measure to cool the tension - possibly by reactivating its bond-buying programme.
"If it were to happen right now, we'd be at $1.25 - $1.26 by the end of the day and you'd see a big fall in Spanish yields. But it would only buy time because it's not a resolution, it's a sticking plaster."