Germany backs giving Spain more time on deficit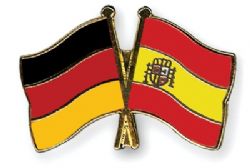 The German government said on Friday that it supported a European Commission proposal to give Spain more time to reduce its budget deficit, in a sign Berlin is prepared to take a more flexible approach towards euro states struggling with recession.
"Spain presented a stability programme in which it stated its clear intention to reach the 3% threshold in 2013," finance ministry spokesman Johannes Blankenheim told a news conference when asked about the Commission proposal.
"We support Spain in its efforts to implement the necessary measures. But we also recognise that because of negative economic developments it will be difficult for Spain to reach its goals."
Asked if this meant that he supported giving Spain more time, he replied: "I think that's what I've been saying."
"Spain is meeting its obligations in the deficit procedure, so we see no reason to escalate this procedure," Blankenheim added. "The Spanish government is moving decisively to implement the required reforms and the German government is convinced that this decisiveness will be reflected in the markets."
He was more cool on suggestions by the European Commission and European Central Bank to create a form of "banking union" with cross-border deposit guarantees and a bank resolution fund, saying the government did not see how these ideas would help solve the debt crisis in the short-term.