Mediterranean diet 'improves wellbeing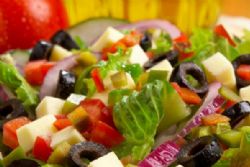 Expatriates who are relocating abroad to the Mediterranean could see their physical and mental health improve as a result of the dietary habits in the region.
A study, which was headed by the University of Navarra and the University of Las Palmas de Gran Canaria and published in the European Journal of Clinical Nutrition, found the eating patterns traditionally seen in this part of the world result in better personal wellbeing among inhabitants.
Scientists investigated over 11,000 students over four years and analysed the influence the Mediterranean diet had on them.
Self-perceived life quality and dietary intake data was monitored in the study, which positively valued consumption of nuts, cereals, fish, fruit, vegetables and pulses, while negatively rating the intake of alcohol, dairy products and meat.
The results reveal a correlation between those who have the 'most Mediterranean diet' scored higher than those with different eating habits in terms of mental health and happiness, with an even stronger link found when physical wellbeing was analysed.
"The progressive aging of the population in developed countries makes it even more interesting to find out those factors that can increase quality of life and the health of the population," lead author of the study and researcher at the centre in the Canary Islands Patricia Henriquez Sanchez said.
She added: "The Mediterranean diet is an important factor - associated with better quality of life - and can be considered as a healthy food model."
Other studies had linked the area's nutrition to lower mortality rates and a reduced likelihood of chronic illnesses.
Previous research published by the Sahlgrenska Academy at the University of Gothenburg found people with the Mediterranean eating habits have a 20% higher chance of living longer than those who do not, with this nutrition typically adding two to three years on to a person's life expectancy.
These eating patterns improve the health outcomes of both the elderly and youngsters, the investigation concluded.
Click here to read More News Stories by Expatriate Healthcare?