Vice President of Paramount Licencing praises Murcia theme park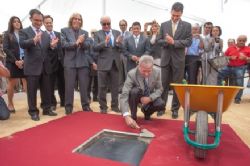 The Executive Vice President of Paramount Licensing, Michael Bartok, has commented on how "delighted" he is with the progress made by Premursa with regards to the Paramount Pictures theme park project at Alhama de Murcia.
He went on to call the work undertaken by the developer to date as "professional and efficient", and also acknowledged the support of the town of Alhama and stressed that the park will be an "example of excellence" for Spain and Europe."
Bartok was speaking to the press following his attendance of the official ceremony to lay the first stone at the park last week.
The VP explained how the complex will be themed with the thousands of films produced by Paramount, but maintained that the group "is not a financial investor", although is committed to its globally recognized brand.
He insisted that the project will be the first new generation theme park in Europe, with attractions that bring cutting-edge and quality tourism, "In the coming months our design team will work with Premursa to begin construction of this exiting project."
The first stage of the construction at the site will begin with access to the park. Premursa have already applied for permission from the Directorate General for Highways to construct an access road to accomodate an average of 15'000 vehicles per day.