G7 to work together on Spain, Greece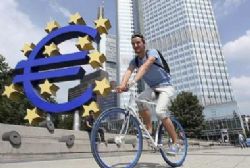 The Group of Seven finance chiefs agreed in a teleconference call to work together to deal with the problems hitting Spain and Greece, Japanese Finance Minister Jun Azumi said on Tuesday.
He added that he had told his G7 counterparts that Japan was concerned about the impact on the domestic economy of the yen's rise and falls in Japanese share prices.
He urged the G7 to reaffirm its agreement made last September that excessive currency swings hurt the economy and that they will cooperate as needed on foreign currencies.